Schistosomiasis (Schistosoma japonicum)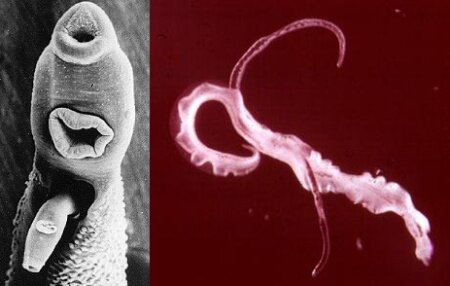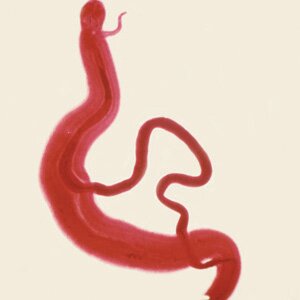 Schistosomiasis (Schistosoma japonicum). It is the most significant parasitological problem after malaria worldwide. Nowadays, there are over 200 million people infected with the disease all over the world.
Infection symptoms:
secondary hypertension
abdominal dropsy
gullet varixes
lung lesions leading to Cor pulmonale creation
accidental access to the brain might cause pituitary dwarfism or cross core paralysis
allergies
toxemia
anaemia
cachexy
Development cycle
The life cycle of Schistosomiasis is tightly connected with water environment, which is contaminated by human faeces and urine. Wild animals and pets are hosts for only S.japonicum. Schistosoma evolve in water and land snails. Cercarias released to water by snails infect humans by penetrating the skin and getting into the blood vessels. In order to prevent infection you should not bathe in contaminated water reservoirs or drink watar of unknown origin.
Mature forms of S. haematobium evolve in the blood vessels of the pelvis minor especially in the bladder whereas S. mansoni i S. japonicum in the mesenteric veins. Part of eggs laid by the female living several years penetrate the tissues into the bladder or large bowel and are passed through with faeces or urine. Another part of eggs stay in the tissues causing chronic pathological lesions.
The local consequences of S. heamatbium infestation are: blood and inflammatory lesions, later hypertrophic and papillary lesions of bladder walls and the pelvis minor organs. As a result of the lesions, extensive calcifications and cicatrization of the bladder. That leads to bacterial infection of the urinary tract, clots, uremia and anaemia. The main symptoms in the urinary system schistosomiasis are painful urination and hematuria (especially in the final part of the urine)
S. mansoni i S. japonicum infestations cause bleeding lesions and ulceration then polypoid and scars of the small and large bowel mucosa.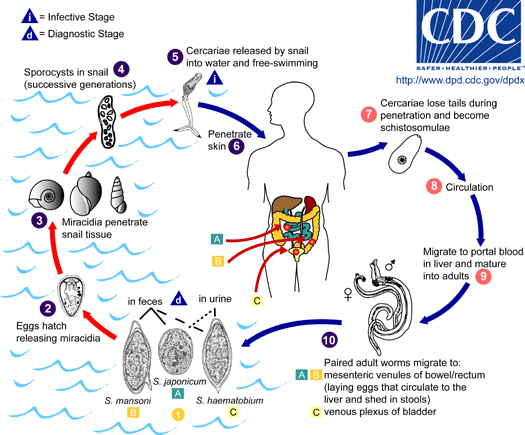 Incoming search terms:
schistosoma
schistosoma japonicum
Diphyllobothrium mansoni
SCHISTOSOMIASIS
images of (Schistosoma haematobium S mansoni